We all know the feeling of going out for the day and layering up to protect yourself from the cold, only to end up feeling stuffy and uncomfortable because of it. It can feel like the decision to be made is between simply wearing a shirt and coat and feeling the chill until you get somewhere warm or having your comfort and movement restricted by layers of thermals, shirts, and sweaters.

Perhaps you work outdoors and are starting to feel the negative effects of long hours of exposure to the cold, with the bitter weather affecting your joints and muscles and causing aches and pains.

Luckily, there is a solution! There is a way that you can wear just one shirt underneath your coat and still feel a comfortable warmth all day.

If you haven't seen it before, allow us to introduce you to the SnowWolf Smart Heated Shirt, the perfect addition to your wardrobe for those cold winter days!

Our heated shirt works in the same way as other heated coats and jackets, but provides a closer warmth, leaving you feeling snug and cozy, whatever the weather and whatever the activity.
Rapid Double Heating
The SnowWolf Smart Heated Shirt features double heating at both the back and front of the shirt, placed perfectly to deliver warmth where you need it. The heated pads begin heating up just three seconds after the shirt is connected to the power source and switched on, so you don't need to spend any longer feeling the chill! 
The heated pads are powered by a standard power bank – the same you would use for your cellphone – being plugged into the shirt via a short cable. The power bank and cable can then be zipped away neatly into the pocket, so it won't be getting in the way of anything you do during the day, and won't be visible to others.
If your power bank is fully charged, then your shirt will continue to generate heat for up to 12 hours! This is a real all day long solution to the effects of the harsh winter cold.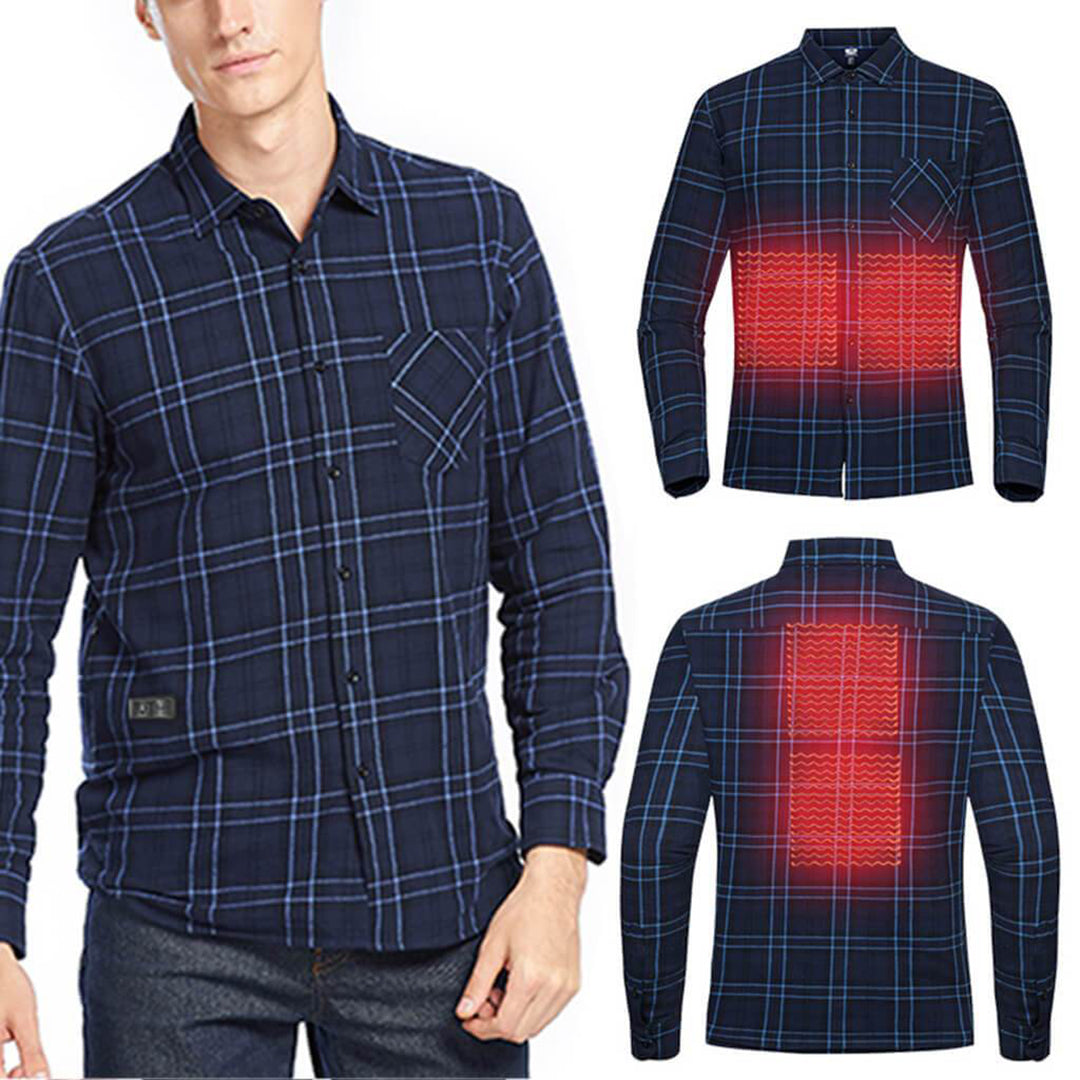 Looks Great, Feels Great
The SnowWolf Heated Shirt looks just as fashionable as the other shirts in your wardrobe, with two great designs to choose from – a stylish dark and light blue check or a blue and white tartan, both designs which will suit men of all ages, shapes, and sizes.

The fabric is soft and breathable for optimal comfort, and features a mezzanine inner layer to absorb and reflect the deep generated heat, keeping you warm whilst protecting your skin from burns.

The shirt comes in a wide range of sizes from S to XXL, so there's a SnowWolf Heated Shirt for everyone. The fit is true to size and allows you the room to move around freely, whilst still allowing the heated pads to fit snugly against your body.

Whilst you may worry that the heated elements of the shirt, power controls and power bank would look obvious to others and may change the fit of the shirt, the shirt is designed to look just as lightweight and slim-fit as a regular button-up. With no visible lumps and bumps where the special features of the shirt are hidden, the SnowWolf Smart Heated Shirt feels as great as it looks. In fact, the shirt is slim and lightweight enough that it can be worn underneath a sweater or jacket if you need to, without looking though you've got a little extra padding underneath.

Nobody will be able to tell you're wearing a heated shirt, although we think you'll be so impressed with the SnowWolf Smart Heated Shirt that you'll tell all your friends anyway!


Easy Controls
To switch on the SnowWolf Smart Heated Shirt, simply plug into your power bank and press the power switch on the bottom half of the shirt.

The shirt has three different modes of heating, which you can toggle through by simply pressing the power button again, so whether you're dealing with a slight cold snap or a harsh winter's day, you can feel the perfect level of warmth you need.

If you need the shirt to be warmer or would like to allow it to cool down a little, simply press the buttons again in accordance with what you want. With an all-in-one button rather than multiple complicated controls, the SnowWolf Heated Shirt is easy enough for everyone to use.


Perfect Every Day
The SnowWolf Smart Heated Shirt is non-radiative and safe for use every day – and you'll certainly want to wear it every day once you've tried it!

To wash the shirt, simply disconnect from the power source and switch off, then put it into your washing machine. With no expensive dry cleaning and no worries about damaging the heated elements of the shirt, you can wear and wash this shirt as much as you need.

The three heated modes mean that the shirt can be worn year-round, only ever providing an amount of warmth that you are perfectly comfortable with.


A Great Gift!
Perhaps you know someone who works outdoors and could benefit from the comfortable warmth of a SnowWolf Smart Heated Shirt, or maybe you have a friend who enjoys going for a hike, whatever the weather that day maybe.

Maybe you know someone who is always complaining about the cold, or perhaps even suffers from a condition such as Raynaud's disease, who could benefit from a little extra warmth in their wardrobe.

The SnowWolf Smart Heated Shirt makes a great, thoughtful gift. Comfortable, fashionable, and functional – receiving one of our heated shirts would be enough to make anyone's day!

Of course, we all deserve to buy ourselves a gift every now and then. If you ever struggle against the cold or even just wish you could feel a little warmer when out and about, without having to layer up or wear a thick, stuffy coat, then why not treat yourself to a SnowWolf Smart Heated Shirt? You'll wonder how you ever went without it!